Supporter
September 7, 2020
Vote for your Crédit Agricole Aiglon of the month for August
The Rouge-et-Noir are back in league action at Montpellier on Saturday (17.00CEST), and the time has come for you to vote for the Crédit Agricole Aiglon of the Month for August. There are five candidates to choose from, including Amine Gouiri and Kasper Dolberg, named Man of the Match for the wins against Lens and Strasbourg respectively.
Just like last season, the players who have featured on the podium for each game are also among the contenders. For August, Hassane Kamara, Amine Gouiri, Kasper Dolberg, Dante and Walter Benitez all face off. Having scored braces in the two matches this season, Gouiri and Dolberg are favourites.
4 GOALS, 2 MEN
On his first start in Ligue 1, Gouiri lit up the Allianz Riviera on 23 August. Against Lens, the France U21 international scored both goals in a 2-1 come-from-behind win. He unsurprisingly won the Crédit Agricole Aiglon of the Match award with a whopping 94% of the vote.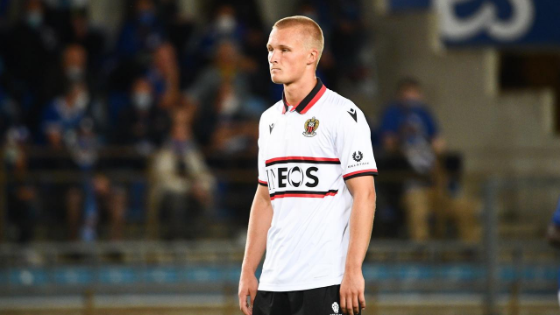 Ligue 1's leading scorer in 2020 (8 goals), Dolberg served up a double in Strasbourg on 29 August, giving the Aiglons a second win in as many games (2-0). The Dane too scooped the man of the match honours with 59.1% of the vote.
THE OTHER CHALLENGERS
Captain Dante and Walter Benitez (2nd and 3rd respectively in the vote after the Lens game) and Hassane Kamara (3rd against Strasbourg) are also in the running for this first monthly honour of the season.
Win a shirt!
Join the draw to win the shirt of the Aiglon of the Month for August.